Showcasing Art from Children with Autism
March 09, 2020
Building Skills through Art at Hopebridge Autism Therapy Centers
Visit any museum and you will see: each piece of art holds meaning, whether it is a tiny paint splat or the Mona Lisa. The same goes for each creation in our Hopebridge centers, where our autism therapy programs combine play and skill-building. From helping children who are non-verbal express themselves, to practicing the fine motor skills associated with holding a marker or using a glue stick, we get to witness the beauty behind the art on a daily basis.
What does this look like in our centers? The Hopebridge team often incorporates art into applied behavior analysis (ABA therapy), occupational therapy and even speech therapy. Take a peek at some of the amazing crafts from our creative kiddos:
Animal Art Encourages Communication
"Aron came to us completely non-verbal a few months ago. Recently, we have been working on animals and their respective sounds during Discrete Trial Training (DTT). He loves animals, whether they are part of a puzzle (his personal favorite), on a placemat during lunchtime, or included within a book. He lights up when we ask him, 'what animal is it?' or 'what sound does it make?' because he learned how to verbally respond to the questions! He is so proud of himself and so are we. We brought out some brand new animal stickers and he labeled them and made their noises as he placed them on his paper. He also loves the color blue, so he first chose shades of blue to draw with around his stickers. It was especially exciting to hear his most recent accomplishment during this session, when he asked, 'can I have help, please?' with very little prompting!" Hopebridge Cumming Center Manager Taylor Giannelli shared with us about Aron's artwork and progress.
Always Leaving a Little Sparkle in ABA Therapy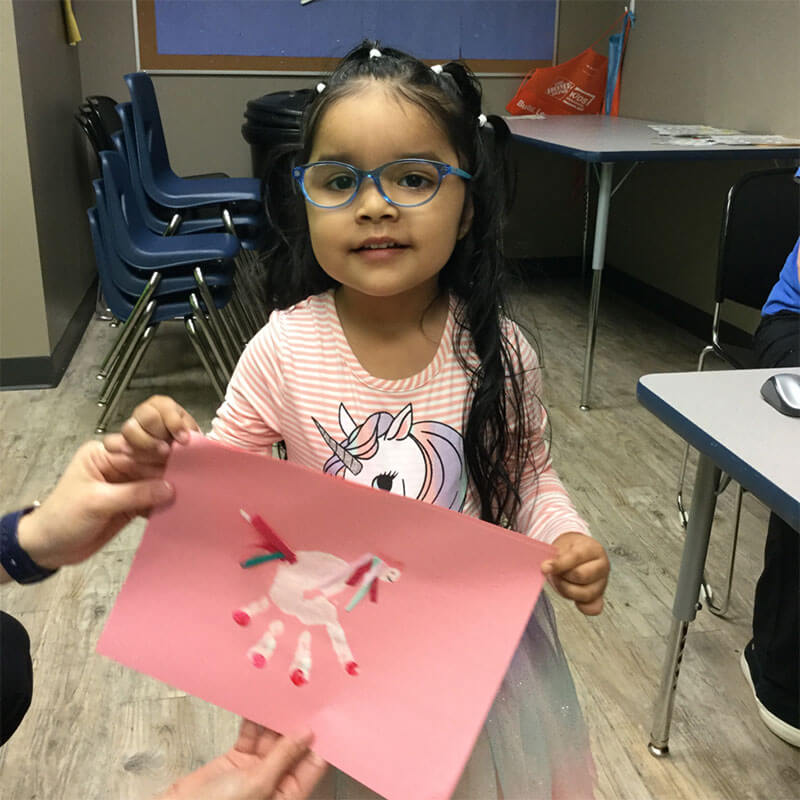 "Daleyza loves unicorns and will often wear unicorn shirts and hats to the center. Today she decided to make a unicorn using her hand and finger prints, along with colorful ribbon and glitter!" Hopebridge Roswell Center Manager Brittany Johnson told us.
Dot Marker Magic During Autism Therapy
These two young boys had fun designing their own creations, working on different skills with help from RBT and Behavior Analyst Fellowship student, Shelby Revils. Showcasing their work on lines, shapes, colors and other fine motor skills, this artwork was shared by Hopebridge Bloomington Center Manager Ashley Lehman.
Building Fine Motor Skills through Crayons
"Wilson just transitioned from a part-time schedule to a full-time schedule and is thriving! He is picking up on so much. Recently, Wilson has become more independent with holding crayons and other coloring utensils. We let him show off his skills during his arts and craft times, and he was very focused and happy," said Taylor.
ABA Center Painting Projects Brighten Hopebridge Offices
These sweet kiddos, Isaac and Mia, spent some time on a fun painting project in the Fishers therapy center to create beautiful artwork to display in the Hopebridge home office.
School Preparation with Outdoor Crafting
"Some of our therapists, Marygrace and Monica, have been taking the 'preschool group' outside lately to work on arts and crafts. Not only do they enjoy the outdoors, but it helps the kids build tolerance for group play. This project was super cute and incorporated Hopebridge colors," Hopebridge Evansville BCBA Paige Basham told us.
Give your child a voice through art and therapy. Contact us to schedule an ABA therapy evaluation so our team can help your child build independence while learning to express him- or herself at the same time.
*Informed consent was obtained from the participants in this article. This information should not be captured and reused without express permission from Hopebridge, LLC.