Leah Gallo - Impacting Lives Through ABA Training
October 12, 2018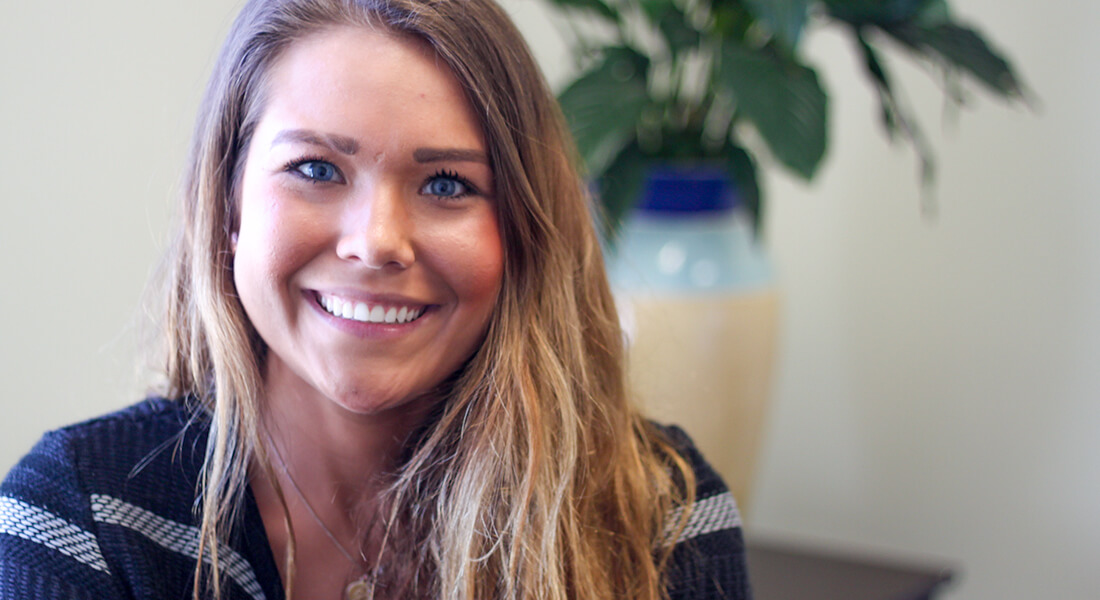 Impacting the Lives of Kids with Autism Through ABA Training
Autism spectrum disorder (ASD) plays a huge role in all of our lives here at Hopebridge. But would you be surprised to know that not all of our therapy team members have a lifelong experience with autism? In fact, many come to us with limited knowledge on the disorder itself, but they have the strong desire and dedication to helping kids and the skills to back it up.
A couple years ago, we had the privilege of interviewing Leah Gallo on her first day as an ABA therapist in the Hopebridge South Bend center. When asked about her experience with autism prior to day one, she told us, "Little to none. Everyone knows someone who has autism – I have relatives who do – but that is about it beyond my research for the job at Hopebridge."
Leah may not have had too many direct associations with ASD, but we knew the foundation was there. She came to us after serving children with developmental disabilities like Attention Deficit Disorder (ADD) and Attention Deficit Hyperactivity Disorder (ADHD) through a course of sensory-motor and cognitive development to help them reach higher successes. Before that, she worked in a preschool for eight years, starting when she was old enough to get her first job. Originally a communications major in school, her personable characteristics and ability to connect on deeper levels were a bonus in the role.
She liked her job at the time, but was interested in child psychiatry, which led her to seek out other rewarding roles at different ends of the spectrum to open her up for future possibilities. At the time, she was not yet a Registered Behavior Technician (RBT) and took on Hopebridge's direct therapy position in Applied Behavior Analysis (ABA).
Fast forward almost two years later and she now serves as an ABA trainer, coaching other team members through the process. In that time, she took her RBT exam, got credentialed, and dove into her work with the kiddos. That is when the clinic manager approached her about applying for the program coordinator and trainer position at the new Hopebridge Merrillville center. Spoiler alert – she got the job!
The Merrillville center opened in June 2017, where she worked directly with kids and training team members, before the clinic expanded into a new location earlier this year. During that time, Leah's role has evolved along with the center, growing from five employees to more than 35.
The Role of an ABA Trainer
As an ABA trainer, Leah has her hands in a bit of everything. She often fills in on the floor with the kids to keep her engaged and up to date with credentialing. She helps get new hires through the onboarding process. This includes RBTs, as well as those who are yet to be credentialed. She coaches them through the process of studying for exams, accessing training videos, getting acclimated to Hopebridge and providing extra support in and outside of the therapy rooms.
"I especially enjoy my job because I am in a unique place to influence all of the kids here in the center," said Leah. "Because our therapy is one-on-one, RBTs usually work with up to two learners per day. By training our team members to be the best possible therapists they can be for these kiddos, I get to touch the lives of all of them!"
It's not just new hires who benefit from Leah's mentorship. She provides proactive, ongoing training for all RBTs, even if they've been with Hopebridge for years. From program material to behavioral intervention, her assistance covers any area they may need support, which she provides through modeling, supplemental materials, and even sitting in on sessions to guide them.
Leah is a resource for BCBAs and vice versa, as her position further opens the channels of communication between the roles and is valuable for bouncing around ideas. They give her the ability to see the therapy from their perspective and if someone has challenges, they can pull her in to work with them.
"Working with ABA therapy at Hopebridge has been eye-opening and I find I bring the strategies with me wherever I go, from using interventions with my children at home, to connecting with other therapists at work," said Leah. "For instance, during training, I like to step back and evaluate how each therapist works best. From there, I can decide whether they'll learn best through example, explanation or sitting in and guiding them through it."
Hopebridge Merrillville Clinic Manager Jessica Schumacher feels the benefits of having Leah on board, too.
"If Leah were a famous superhero, she'd be Mrs. Incredible. She's my problem-solver. I have full trust in her, whether it's in dealing with a kiddo or a therapist. If we need a resource for something, there's a good chance Leah has already made it," said Jessica. "She is super flexible and has solutions to problems we don't even know we have. Her position has changed so much since we've been here and she has always embraced it. Plus I think she'd look really cool in the Mrs. Incredible uniform!"
Why Does She Do It?
For Leah, it's all about the kids. They're the reason behind her work. It excites her to see her center's 'Mission Accomplished' bulletin board that outlines the learners' successes.
"It's so cool to read the little things that bring everyone joy, like 'my kid went potty on the toilet today!'" said Leah. "It's amazing to be part of a family in which everyone has the same goal in mind for these kids. It's not easy to do what we do each day, but from the moment you walk in, it's clear everyone loves what they're doing – there's something truly special in that."
Would you like to join the Hopebridge team?
We're looking for passionate, talented individuals to join us. Come stand alongside people like Leah to making the lives of kids with autism better.
There is one memory that sticks out from her time working in a preschool. While teaching writing skills, she knelt behind one little boy and physically helped him with the movements before slowly letting go as he wrote his name for the first time. As he went back to work on his letters, with each one, he would say, 'boom shakalaka!' It's those little moments that keep her coming back.
"The joy it gave him – that's why I do what I do. These kids get so excited when they understand something and they look for that praise and support you've been giving them the whole time," said Leah.
Autism Through Her Eyes
Like our other Hopebridge heroes, Leah doesn't see autism as defining a person. It's a special uniqueness that might just take a little extra care and support to help them get to their full potential.
"When a child receives an autism diagnosis, it's too often society slaps a label on them. But not at Hopebridge. Here, you see 30 kids smiling, playing and having fun," said Leah. "A child who came in nonverbal is now talking. Another who may have had 30 tantrums in a day has now decreased it to three. They're just like other kids – learning and growing – but at their own paces."
And it's not just the kids who are learning. Leah feels these children have taught her to be open and patient, especially with her daughter and son at home.
"When you get frustrated or hear a child screaming, it can be easy to get upset, react and say something you feel in the moment. Now that I understand ABA and behavioral intervention in general, I know that I can do so much more with my own actions," said Leah. "It's important to understand everyone will eventually get where they need to be; it will just take different amounts of time."
Leah's role may have found her, but she was ready and willing to explore new opportunities. Do you have a passion for pediatrics and are interested in a career change like her? We have open BCBA and RBT positions, and for the right match, we can even help you through the certification process. Learn about the open Hopebridge roles available to you by visiting our job board.
Get to Know Leah
Fun fact: "I'm a mom of two kids. My daughter, Phoebe, is three years old, and my son, Theodore, is four months old."
Dream lunch guest: "Daisy Duck. It's actually already been fulfilled! I've been to Disney twice and the last time, we took my daughter to a character lunch. I was so excited to see Mickey and friends, but it went a little differently than planned. Goofy came up behind Phoebe and she was scared. She pushed her lunch away and said, 'Mommy, he's trying to take my food!' She remembers it to this day."
If she wasn't an ABA Trainer, she would be:Â "A sports broadcaster. That was my intent when I majored in communications and minored in media. Then I had my daughter and my plans changed, but what happens here is just as exciting anyway!"
What's on her playlist: "Phoebe has had my phone, so probably Disney tunes like, 'Let it Go,' or 'Baby Shark.'"
*Informed consent was obtained from the participants in this article. This information should not be captured and reused without express permission from Hopebridge, LLC.