Why Families Should Not Skip Pediatric Checkups Due to COVID-19
July 02, 2020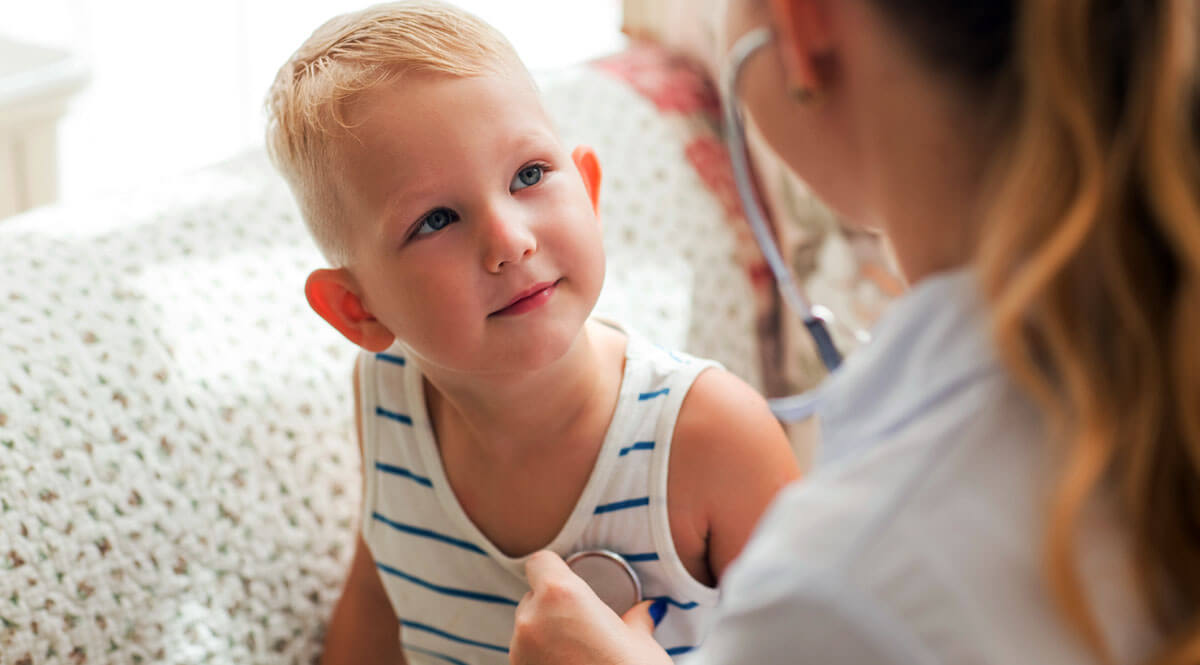 Experts in Pediatrics and Psychology Weigh in on the Importance of Keeping Well-Child Visits and Diagnostic Appointments
These past few months have posed much confusion across the United States and there continue to be a lot of unknowns surrounding COVID-19, but there is one thing we know for sure: this is not a time to halt well-care for our children.
Similar to the American Academy of Pediatrics' recommendation to send children back to school in the fall, the AAP also "strongly supports the continued provision of health care for children during the COVID-19 pandemic," which includes early intervention. The doctors we work within our own Hopebridge communities are in agreement yet understand parents' concerns for their children's health. These physicians are taking the guidelines extremely seriously and also want parents to know the risks of missing a wellness appointment likely outweigh the risk of coronavirus exposure during that visit.
"There are huge risks in skipping well-child checkups and it's a real issue," said Dr. Chris Holmes, a pediatrician for Greene County Health who specializes in behavioral health and conducts diagnostic evaluations at Hopebridge Autism Therapy Centers. "There are major things that can be missed and even a couple months difference can have a big impact. That is why our schedules with frequent visits are so precise."
To learn more about the effects of delayed appointments and what medical professionals are doing to keep your families safe, we turned to Dr. Holmes and Dr. Candice N. Claiborne, a licensed clinical psychologist at Hopebridge who leads diagnostic assessments.
Our experts covered some of the most frequently discussed topics regarding well-visits:
---
Risks of Skipping a Well-Child Appointment
Missed milestones and regression
"When it comes to autism spectrum disorder, those first three years of life are critical. This is when the majority of autism symptoms present themselves, so pediatricians are really hands-on during this time in order to offer guidance to parents and let them know if some challenges go beyond a speech delay, for instance," said Dr. Claiborne.

Given how quickly developmental milestones change in kids under the age of 3 – particularly under the age of 18 months – missing a couple of checkups can mean missing social and communication milestones and other behaviors that result in immense challenges.

"This is not a hypothetical situation; this is real. Developmental changes occur within weeks. What a 6-month-old is doing is radically different from what a 7- or 8-month-old should be doing," said Dr. Holmes. "I am already seeing some kids who traditionally would have been in earlier, but they missed their appointments due to valid concerns about leaving the house. These are children with obvious speech delays and fine and gross motor delays, including several who have concerns with autism."

Unfortunately, these developmental delays are not always easy for parents to notice on their own. Parents do not view them in the same way as physicians because the delays will appear gradually for families who care for their children 24 hours a day.

Longer wait times and limited options for interventions
Both experts stress the importance of timing when it comes to wellness checkups in order to limit delayed or missed opportunities for early intervention services for children who need them. If you miss a visit, it may take weeks to get back on the schedule. The longer it takes to discover missed milestones and interfering behaviors, the longer it takes to get a diagnosis, and the longer it takes to get in the door for services like applied behavior analysis (ABA therapy).

"As children get older, the symptoms of autism become more severe and it becomes more difficult to manage. If we notice them earlier, there may be more resources available for parents and more opportunities to intervene," said Dr. Claiborne. "Brain development in those first few years of life is still very adaptable and flexible, so there is more room for growth in improving a child's motivation for social responses and communication."

Getting the proper treatment is a process, so if we can move the initial step along faster, it is more helpful to families. Services may also become more limited in certain areas, so it is best to get on the list early.

Unintentionally reinforcing maladaptive behaviors
If developmental delays are not recognized early, it can lead to additional challenges. Without support, parents may unintentionally reinforce inappropriate communication or interactions.

"This is when we see an increase in aggression, self-harm and inappropriate social overtures to gain attention, such as tantrums, hitting or throwing things. Because these behaviors are so severe, parents immediately respond to them to try to extinguish them, when in fact they are reinforcing them to continue. By the time we see them, even in as little as six months later, we see more maladaptive behaviors that didn't exist before," said Dr. Claiborne.

If physicians and diagnosticians are able to examine children with these types of issues even a few months earlier, they can identify these behaviors and put interventions in place to improve and replace them with more appropriate and impactful behaviors.

Misfocused treatment
As children get older, treatments may be misfocused if they are not able to visit their doctors on time. For example, maybe a child has been on medication for ADHD for a while, but as he or she grows, more signs of autism begin to appear, rather than what was originally thought to be ADHD. If he or she does not visit the pediatrician regularly, these symptoms may be missed and the family may not see improvements in their development because proper supportive services are not in place.

Delay in crucial vaccinations
Beyond development, skipped vaccinations are another key downfall of missing a regular checkup, especially for infants. "Our worst nightmare would be to get an outbreak of measles while we are battling COVID-19 and influenza at the same time, and this is a rising possibility if children do not get vaccinated on time," said Dr. Holmes. "We especially do not want children under the age of 2 years to miss their well-child checks because that is when we vaccinate the most in early childhood." Dr. Holmes also notes that the safest way to get vaccinated is at the doctor's office, especially since some public health departments are not running as usual during the pandemic.
Medical Office Safety Precautions for COVID-19
The AAP, American Academy of Family Physicians (AAFP) and Centers for Disease Control and Prevention (CDC) have all been proactive in releasing guidelines for creative ways doctors can serve their patients in a safer manner for everyone involved. While every practice runs its office a little differently, most primary care facilities are following similar procedures.
"We are calling all of our patients' families who have not made their checkups to let them know it is safe to come to our office," said Dr. Holmes.
Protocols at most medical offices include pre-screening phone calls, no-touch temperature checks, disinfection between patients (door knobs, exam rooms, etc.), more aggressive end-of-day cleaning, and masks for every employee. Parents and patients are also requested to wear masks, though it is not always mandatory.
Physicians are taking it a number of steps further to keep their patients and themselves safe. Many reorganized their schedules to separate visits for well patients and sick patients, such as only seeing well people in the morning and those who are sick in the afternoon. Well patients or their guardians are often asked to call from the parking lot, skip the waiting room, and are escorted directly into an exam room.
At Dr. Holmes' office, patients with any sort of illness do not even come into the building, including those with a rash or other potential viral symptoms. Instead, she and a nurse bring all the necessary instruments outside to visit them at their car or another safe area around the parking lot. When examining patients with any illness, she wears a face shield or goggles, gown and gloves, in addition to the mask. Once finished, she removes the personal protective equipment (PPE), disinfects herself and starts over again with the next patient.
"A lot of offices are following these types of procedures and parents are all for it," said Dr. Holmes. "I also talk to my patients about COVID-19 every time they come in… 'Are you practicing social distancing? Is everyone well in your household? Do you wear a mask when you go out?'"
Those who are significantly ill with anything that could be related to COVID-19 are asked to go straight to the emergency room. If they are a little ill and believe it's related to the coronavirus, doctors may tell them where to get tested, ask them to stay home and the office will call with daily check-ins, giving them specific warnings about when they should not wait to get additional help. Dr. Holmes notes that accessibility and follow-up with parents is also essential during this time.
When it comes to diagnostic evaluations, the safety measures are similar with some necessary tweaks.
"I'm really proud of the procedures we put in place here at Hopebridge," said Dr. Claiborne. "Parents are really receptive. Even if our appointments run a few minutes behind because I'm still cleaning, they are happy we took the time to prepare."
Hopebridge's additional methods include offering disinfectant wipes for any belongings that come into the building. Patients and parents are guided to the restroom to allow them to wash their hands before entering the testing area. Toys used for diagnostic assessments are disinfected after every appointment and at some of our centers, the "snack time" portion of the evaluation has changed a bit. When it is time for children to request food, we now use pre-packaged snacks or ask parents to bring their own, as well as have the parent direct that portion of the assessment.
Masks are recommended but not required. If a child wears a mask, there are some situations when the person conducting the evaluation may ask for permission to remove the mask if he or she cannot understand the child's speech or needs to check facial expressions.
In order to reduce the amount of contact within Hopebridge, Dr. Claiborne also limits families to one parent or guardian inside the testing room at a time. The other parent can use FaceTime during the assessment if they would like to observe. Otherwise, Dr. Claiborne offers for parents to swap places at the end so she can talk with them one-on-one after the assessment to gather further information. Since practitioners move around the room so much, this helps limit exposure.
How Telehealth Can be Used Effectively
"We are still holding a number of telehealth visits, which can be effective for some, such as behavioral patients on medications that don't require checks of blood pressure or weight," said Dr. Holmes.
"Conducting a checkup for a child via telehealth is extremely difficult to do thoroughly, so I haven't held any of my wellness visits in this manner. The younger the child, the less adequate, since you can't pick up subtleties. Even if you have video, you can't assess a baby's tone if you can't pick them up. You can't feel their head, get an eye or ear exam, check reflexes, nor check on some cranial nerves."
Hopebridge also conducted diagnostic assessments through telehealth during the temporary closure of our centers. This includes both the Autism Diagnostic Interview (ADI-R) to solicit information and behavioral examples from parents, as well as the play assessment with children. Before the interview, the psychologist would get an inventory of what toys were available at home and have them set up a play area. The diagnostician would give parents directives on how to guide play with the child and observe the behaviors over video.
"It was an interesting experience and we found it beneficial for a small group of families with patients between the ages of 2 and 4 years old, since the symptoms of autism are usually more apparent for this age group. It also had the additional benefit of viewing interactions with a sibling in a natural environment," said Dr. Claiborne.
She told us as the children get older, there are more limitations. It becomes more difficult to notice their social skills and ability to pick up on social cues through a video camera and determine whether it is not better accounted for by ADHD or another mood disorder or behavioral component.
How to Prepare for a Doctor's Visit During the Pandemic
For parents wondering what they can do to help appointments run smoothly and keep everyone safe, Dr. Holmes and Dr. Claiborne shared extra advice.
Ask questions.
Both experts tell us it's reasonable to call to ask questions regarding what the office is doing to keep you safe. For instance: "What is your protocol for bringing people into the building?" "How often do you disinfect?" "Do I have to sit in the waiting room?" "Are you separating well and sick patients?"

Wear a mask.
"COVID-19 is not gone and kids can get it. It's bad news that it's not over but we are getting smarter by the hour," said Dr. Holmes. "People who ignore it will get sick or get others sick. Wear a mask, socially distance. It's a new way of functioning, but you can function like this."

Fill out forms in advance and bring any necessary materials with you. Preparing your paperwork before the appointment helps reduce the amount of time you need to be in the office, especially as it relates to diagnostic testing. If your child has previous evaluations or IEPs, bring those as well. Dr. Claiborne also suggests: "Parents should think about certain examples that they want to discuss during the appointment. Utilizing video clips also helps capture behaviors that concern parents or may not occur regularly."

Be mindful of misinformation on the internet.
"There is a lot of really bad information on the internet and social media and it's accelerating. If you want to get accurate information, visit nih.gov, aap.org, aafp.org or cdc.gov," said Dr. Holmes. "Go to sources you really trust. You should not trust a stranger on the internet over your pediatrician. And if you can't trust your physician, you need a new one."

If you know your child is prone to anxiety, bring what you need to comfort them.
This is a stressful time for everyone, so if your child needs soothing, bring a transitional object known to provide support and we can provide materials to wipe it down. The parent will also be in the room to provide comfort, and if the child is overwhelmed, let the doctor know and he or she can readjust, if possible.
Need Help Arranging an Appointment?
"We are even busier than before with diagnostic referrals. With parents spending more time at home with their kids, it is possible they have become more aware of their children's behaviors and challenges. It may have also given them the opportunity to put feedback from teachers or other caregivers into context," said Dr. Claiborne.
If your child is overdue for a wellness checkup, please call your doctor to arrange an appointment. If you have developmental concerns about your child and would like to arrange an evaluation, contact us online or give us a call. Our Hopebridge team can help you get the answers you need, sooner than later.