Best Apps for Autism: 12 Apps for Development and Skill-Building
November 11, 2021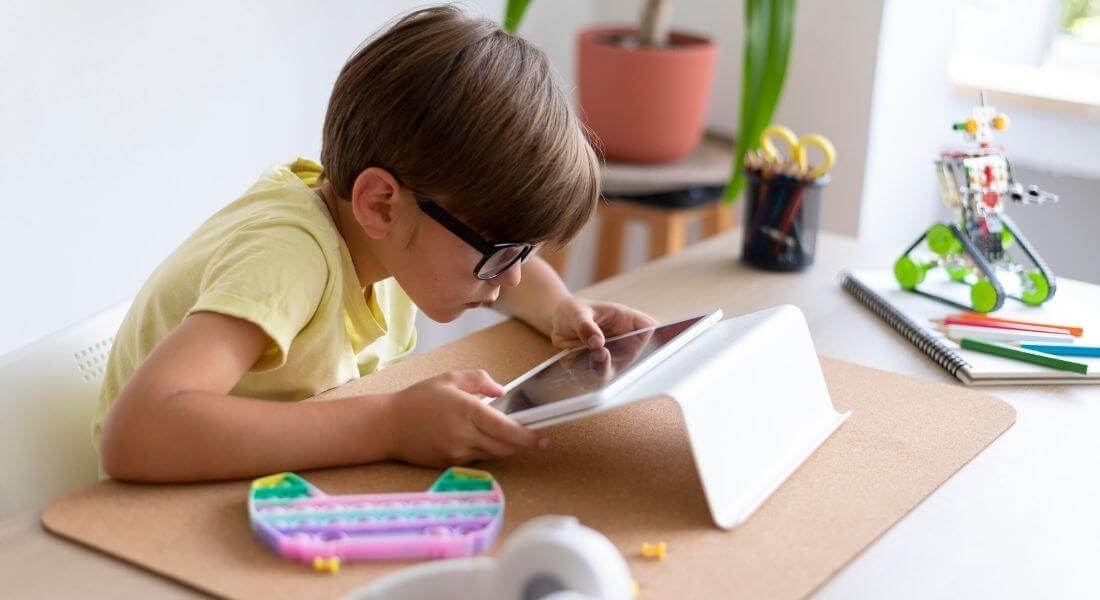 BCBA- and Parent-Approved Apps for Children with Autism
Screen time gets a bad rap, but in today's era of technology with phones, tablets, computers and TV screens all around us, it's tough to ignore. Parents everywhere know it can also come to the rescue for those who need a little break, and even more so for kids on the autism spectrum who use it to communicate, unwind or as a reinforcer.
While overuse can become an issue, don't let the screen time stigma get to you if it plays a role in and around your home. There are a number of ways to incorporate learning and play into their time on the tablet beyond YouTube. Don't get us wrong, we love learning about sign language from Patty Shukla and using toy review videos to model how to play with toys, but there are plenty of other apps available that are interactive, educational and entertaining, too.
To encourage more effective screen time, we came up with a list of 12 apps for the phone or tablet that will keep your child active and engaged, as well as a few to increase their independence around daily tasks and situations. Most are not autism-specific, nor are they intended to take the place of therapy, but rather to support your family on your journey by providing resources to build skills that include communication, social skills, motor skills and problem-solving.
As with most of what we discuss here on the blog – and in therapy – it's not a one-size-fits-all list. We recommend checking out the apps yourself, then pursuing the apps that are the best match for your kiddo's interests, skills and needs.
Top 12 Autism Apps
1. ABC Kids – Tracing & Phonics
This app is such a hit that it came to us BCBA-approved from multiple Hopebridge Heroes. This educational app has cute, encouraging characters to help children learn to identify and trace letters, work on sounds from A to Z and more. Kids love it because it's packed with colorful graphics, fun mini games, creative stickers and gift rewards. Parents love it because it's completely free without in-app purchases or ads.
ABC Kids Apple App Store Download | ABC Kids Google Play Store Download
2. Pokémon Smile
This is one of those apps you'll wish you knew about sooner. It's great for parents because the app enables reminders that let children know when they need to brush their teeth, plus has options to set a timer for the desired duration. Kids get excited about using it – and working on this foundational skill – because they get to rescue Pokémon from cavity-causing bacteria while they do it. When they brush regularly, they also receive awards for their accomplishments, including amusing Pokémon Caps (A.K.A. cute and funny filters) that will appear on their head to create silly images of themselves.
Learn more and Download Pokémon Smile
3. Aquapark.io
You may already be familiar with this app, especially if you're on TikTok. Kids have a blast with this competitive game as they attempt to be the quickest racer to make it across the finish line. This is not your normal race track, however … Players race down a giant high-speed water slide before diving into the pool. The controls are simple, making it adaptable to players of many ages and developmental levels. Not only is it a great reinforcer for kids, but it encourages them to work on their fine motor dexterity. The app is free, though there are ads and in-app purchases, so it's best used with supervision.
Aquapark.io Apple App Store Download | Aquapark.io Google Play Store Download
4. GoTalk NOW LITE
This free version is a nice option for children and adults who are nonverbal or have difficulties speaking and do not already use an Augmentative and Alternative Communication (AAC) device but are ready to explore using one as a support tool. Families and therapists who use it say it's a flexible, easy-to-use app to aid in communication. It has all the essentials of an effective AAC app, like adjustable page layouts, customizable navigation, recorded and text-to-speech capabilities and an included symbol set. It also allows users to create three personalized communication pages for more customization before diving into a more advanced AAC device or app.
GoTalk NOW LITE Apple App Store Download
5. Starfall
If preparing for the classroom is a goal on your kiddo's list, Starfall is a good option for school readiness. The app covers reading, colors, phonics, math, music and social-emotional development through digital activities, games, songs, rhymes and more. There are various academic levels, starting with the skills and topics kids might experience in pre-k classes. The app is free and sometimes used by schools to keep kids motivated.
6. GoNoodle
Though there are other ways to access GoNoodle, we prefer the video app options because they're easy for kids to use. This app is aimed at physical health, mental wellness and self-discovery for kids and their families, which makes it a bit different than the others on our list. It offers activities around breathing, dancing, stretching and other fun forms. Plus routines geared at helping kids with waking up and bedtime. We love it because it offers a more active way to utilize screen time, as well as focuses on body awareness, coordination, gross motor skills, cross lateral skills and more.
7. Reading Eggs
These education-based apps for kids are designed by experienced teachers to promote learning on the go. From the "Learn-to-Read App" and "Eggsperts Appisodes," to "Eggy Subtract to 20" and "Eggy Alphabet," there are a number of app choices aimed at teaching phonics, spelling, vocabulary, math, sight words and more through colorful and interactive games and stories.
Learn more and Download Reading Eggs Apps
8. Speech Blubs
This speech learning app is a beneficial tool to support language therapy. It aims to help children speak more effectively, sooner and confidently, and its creators took children with autism spectrum disorder (ASD) and other developmental delays into consideration when building it. Kid "experts" teach first sounds, words and sentences to get children interested and motivated to copy, repeat and speak with ease. There are also opportunities to take pictures with face filters designed for kids to become the words they practice.
9. Proloquo2Go
This is another symbol-based AAC app that supports development of key language skills and can be used as a daily communication tool for non-speaking individuals. It's customizable, from voice to vocabulary to appearance, and designed to support all users from beginning to advanced. Unlike GoTalk, there is not a free version available, however Hopebridge BCBA Johanna Lima recommends this pro tip: "Keep an eye out during Autism Awareness Month. Apple and Samsung sell their communication apps and other scheduling apps at a huge discount in April. They also typically have a special filter for autism during that month, so it's a good time for families to purchase if their insurance or schools do not cover the costs."
Learn more and Download Proloquo2Go
10. iCreate… Social Skills Stories
Many kids thrive on social stories, which can help them learn what to expect and how to interact in various social situations. For a low cost, this app allows families and clinicians to combine visual, audio and text to create their own story books with unlimited pages. All steps and storylines can be rearranged and personalized, including the opportunity to import personal photos.
Learn more and Download iCreate… Social Skills Stories
11. First Then Visual Schedule HD
Does your child do well with first-then boards and visual schedules? This app allows your family to have audio-visual representations of routines, activities, sequences and transitions at your fingertips and on the go. It offers the ability to create and use visual supports for daily activities and new experiences, such as "first, get dressed, then each breakfast" with steps that can be completed with check marks. The goal is to help individuals with autism and other needs that benefit from a structured environment to increase their independence and lower anxiety around certain scenarios.
First Then Visual Schedule Apple App Store Download
12. Bitsboard Flashcards PRO
Bitsboard is another interactive learning app with more than 35 educational activities, including thousands of flashcard decks, memory cards, word builders, photo hunts, sequencing games and more. We like this app because it's inclusive and adaptable to a range of developmental levels and learning speeds. Accessibility features include switch control access, options to increase contrast, and customizable settings at the user level. Kids enjoy it because they get to play mini games while learning. The cost of Bitsboard is not as low as most others on our list, however, like Proloquo, there are often discounts available during April.
Learn more and Download Bitsboard Flashcards PRO
Get More Support with Autism Therapy
As you know, apps aren't a substitute for care, so we are here to meet you and your child wherever you are on your autism journey. For more strategies, tools and support around learning and developing key foundational, social and communication skills, reach out to us. We have applied behavior analysis (ABA), speech, feeding and occupational therapy experts across the country to support your child's growth and development to lead a more independent and fulfilling life.
*Informed consent was obtained from the participants in this article. This information should not be captured and reused without express permission from Hopebridge, LLC.