What is Applied Behavior Analysis or ABA Therapy?
July 06, 2018
Benefits of ABA Therapy at Hopebridge for Children with Autism
When your child receives an autism spectrum disorder diagnosis (ASD), your mind may start spinning with dozens of questions. Once you get past the, "now what?" moment, you'll begin to hear and read about tons of therapy opportunities, one of which we hope is applied behavior analysis (ABA).
The questions won't stop there…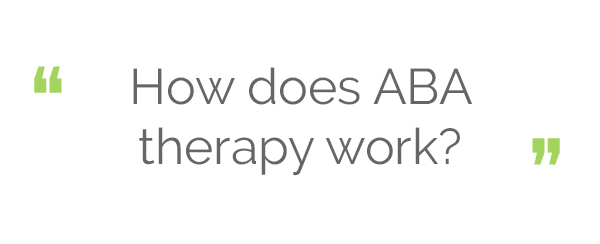 With this post, we at Hopebridge hope to clarify those answers for you so you can move on to the next step of determining the best path for your child.
Clinically Speaking
The origins of ABA stem from research by Dr. B.F. Skinner, a psychologist who believed people learn through consequences (which does not always mean a negative result!), and therefore behavior is changeable through positive reinforcement.
ABA is a scientific behavioral approach that uses learning techniques and principles to bring about meaningful change. Developmentally centered, ABA capitalizes on learning by increasing opportunities and using the things a child already enjoys to teach them new skills. It's a structured, data-driven way to shape and mold actions and encourage effective communication by looking at what is reinforcing it. This includes breaking down activities into pieces in order to aim for smaller, daily objectives rather than broad sweeping goals.
To better visualize ABA in action, watch the video above to hear Dr. Megan O'Bryann, HSPP, and Hopebridge Vice President of Quality Assurance Melissa Chevalier, MS, BCBA, COBA, talk through real-life examples of goals, prompts, responses and reinforcers.
If what they discuss sounds similar to other treatment options, that is because many other therapeutic methods you'll hear about fall under ABA's umbrella, such as Discrete Trial Training (DTT) and naturalistic teaching.
Besides watching it greatly impact lives before our own eyes, ABA therapy is the only proven, evidence-based treatment for autism, having passed scientific tests of its usefulness, quality and effectiveness. It is also endorsed by the U.S. Surgeon General, the National Institutes of Health, the American Academy of Pediatrics and the American Psychological Association. Because of this, it's one of the few therapeutic options covered by insurance for individuals with autism.
While it's highly successful for kids with ASD and often covered by insurance in these instances, one misconception is that it is solely practiced for this purpose. ABA's foundational strategies can occur instinctively in scenarios ranging from teaching babies to walk to managing a workplace.
Is it Right for My Child?
Only you can decide which therapy is right for your child, and we recommend discussing the options with their pediatrician. ABA's scope is broad, so to support you with the proper knowledge and direction for that conversation, here are some areas where your child may benefit from it:
It is productive in improving attention, focus, social skills and memory to help children reach new milestones and create habits that help them in their current stage, as well as increase independence to build a life as an adult.
On the flip side, ABA is known to aid in reducing challenging behaviors such as aggression and self-injury by teaching children other coping strategies and communication to support their wants and needs.
At Hopebridge, our objective is to use your child's strengths and build upon them–all while doing it with joy! Our progressive, compassionate and comprehensive care programs follow your child's lead. Much of our programs focus on the "Happy, Relaxed, Engaged" (HRE) approach, in order to get to a place where our kids are the most comfortable and prepared to learn.
The Right Formula
At home, caregivers can naturally become frustrated and may not have the time or expertise to work through each step needed for a child with ASD, which can take weeks or more, depending on the goal task. ABA therapists are trained to do exactly that, which is why kids in more comprehensive, productive programs, like Hopebridge's, often thrive.
ABA therapy is especially effective when implemented as part of Early Intensive Behavioral Intervention (EIBI). The learning process for the practice is best digested in children younger than 7 years of age who are also provided one-on-one therapy for 25-40 hours per week. When performed in an intensive program like this, families can expect a larger amount of progress than if the behaviors run deeper in an older child or if less time is spent on it. For added benefits, other types of therapy like speech and occupational therapy are complementary, should the individual need assistance in multiple areas.
Unfortunately the vocabulary used around ABA therapy can cause some confusion. To lessen any concerns, think of "intense" as "higher frequency and duration," when referring to ABA. At Hopebridge, we also don't implement it in a "rigid" format, but rather compassionate, strategic and structured in order to increase comfort for our children over time. We treat each child and family with respect and take their individualized needs into account when building the customized plans, instead of forcing someone to conform to others' standards.
Interested in Learning More About ABA?
To ask your own questions and learn more about Hopebridge's Applied Behavior Analysis program, please reach out to our team to schedule a meeting at one of our autism therapy centers across the United States.
*Informed consent was obtained from the participants in this article. This information should not be captured and reused without express permission from Hopebridge, LLC.