RBT to BCBA Katie Johnson Advances Career through Hopebridge Behavior Analyst Fellowship Program
July 26, 2021
Therapist Combines Talents to Help Children Build their own Life-Enhancing Skills
Is there anything Hopebridge Registered Behavior Technician (RBT) Katie Johnson cannot do? A Division I college athlete, certified personal trainer, softball instructor and coach, this rock star is also part of Hopebridge's Behavior Analyst Fellowship Program. while she attends Ball State University for her master's degree in applied behavior analysis (ABA).
To say Katie is a Hopebridge Hero is an understatement. On this journey to become a Board Certified Behavior Analyst (BCBA) within the next year, she has already helped dozens of kids realize their own potential, in part stemming from her own family's experiences.
Personal Experience with Autism Therapy
Katie's older brother has autism and she saw how therapy changed his life. Three years his junior, she remembers following him around while growing up, always there to protect him in the neighborhood and support him alongside her older sister.
For their generation, diagnostic evaluations for autism did not begin until 3 years of age – very different than today's focus on early intervention – which frustrated Katie's parents who knew their son needed more help. They initially sent him to school, but since he did not receive the one-on-one attention he needed, they eventually decided it would not work for him in that capacity.
Instead, Katie's parents turned to a place in their hometown that gave her brother the therapy he needed. While technically not ABA therapy, which was not as widespread as it is now, she remembers this provider worked with similar principles that reinforced positive behavior.
"It paid off. My brother's behaviors took a 180 once he received the attention and care he needed at an early enough stage," said Katie. "We wished he could have received a diagnosis and therapy sooner, but we're fortunate he was able to get help, regardless. It is a night-and-day difference when you look back at where he was at 6 years old versus now at 27."
Beginning a Career in ABA Therapy
Though her brother had experience with autism therapy, Katie did not initially go to school with the intention of pursuing it as a career. After college, however, she put her degree in health and kinesiology to work, but realized it was not the right fit for her.
"At that point, I knew I wanted to work with kids for the long-term. I came across a Hopebridge job post online and I jumped at the opportunity," said Katie. "I didn't know what to expect until I shadowed the job. I learned it was science-based but can also be creative, which was reassuring. Then after six months in the field, I knew I could be here forever."
And it's stuck ever since! Over the past year and a half, Katie has enjoyed the growth of her own Indianapolis center, where what started as one-on-one therapy for 15 kids, now offers one-on-one therapy for 50 children throughout the week. From a personal standpoint, she has met some of her best friends through Hopebridge. From a professional standpoint, she feels as though she is growing alongside her center's BCBAs and leadership team.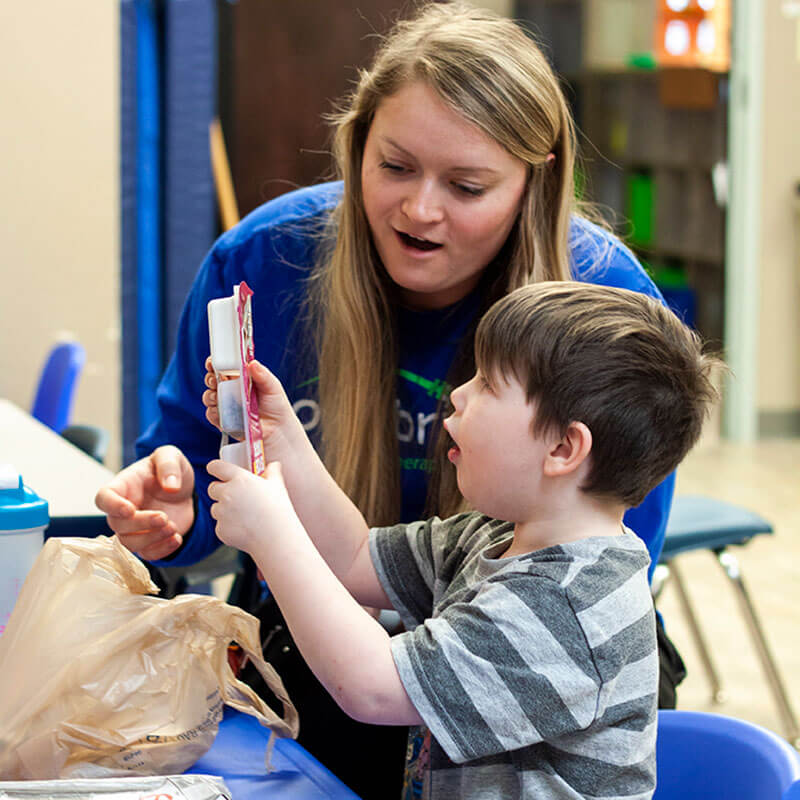 "I enjoy the Hopebridge atmosphere and my connections with the amazing therapists around me, but I think the kids are the best part," said Katie. "Our center has children as young as 3. It's such an exciting time for kids this age. Work is never boring; there is something different every day and those experiences have created valuable relationships for all of us involved."
Would you like to join the Hopebridge team?
We're looking for passionate, talented individuals to join our Hopebridge ABA teams. Come stand alongside people like Katie to simultaneously teach and continue learning for kids with autism.
One kiddo moment in particular captured her heart recently. A boy who was mostly nonverbal began using PECS to communicate and she found it exciting to take part in this progress. After about a month of Katie continuing to work with him on imitating her own words, he opened up. She heard him say words and phrases like, "ball," "throw ball" and "peekaboo," watching his personality grow before her eyes. He has also started to sing tons of songs.
"I feel the connection between us more now that he has the ability to him express himself. It's a big step for this child who is still so young with a long road ahead of him," said Katie. "As a therapist, it is such an incredible feeling when all of a sudden you hear a child whisper something for the first time. You may not know exactly what they're saying, but they're trying and that is so cool."
Becoming an Expert in ABA
Katie has enjoyed serving the children in her center as an RBT, but was ready to go all in to become a BCBA. As part of the process, she joined Hopebridge's BCBA Fellowship Program.
The fellowship is an opportunity for high performing RBTs to further develop their professional careers in behavior analysis and advance within their work environment. They receive guidance and supervision from experienced BCBAs, paid hands-on training and fieldwork, and BCBA exam preparation assistance.
"The Fellowship Program has been a great experience so far. Graduate students can only see so much in school and while working as an RBT, so it is wonderful to have the opportunity to step into the shoes of a BCBA and grasp all they do on a daily basis," said Katie. "We have five BCBAs here in our center, in addition to the support of a regional BCBA, so getting to learn from a wide range of perspectives and professionals with different backgrounds is an added benefit of Hopebridge's program."
Working at Hopebridge has not stopped Katie from her other passion – coaching kids' softball. In fact, she believes participating in these two roles simultaneously benefits all the children she serves. Her experience coaching has helped her better read what may be going on in various situations within the center, such as if a child is tired or sick. At times, she also uses her knowledge of reinforcement from ABA back on the softball field.
"It is awesome to be part of Hopebridge and see the impact on so many lives. I never saw myself going in this direction but now that I'm here, I can't imagine being anywhere else," Katie told us.
Update: A BCBA Exam Pass on the First Attempt!
A message from Katie about her experience taking the exam and starting her journey as a BCBA:
Throughout my experience as an RBT in the Fellowship Program at Hopebridge, I received tons of support. From the mentorship through various BCBAs, to the excellent BACB exam preparation materials provided, Hopebridge provided a unique experience to equip me for the journey ahead.

After two months of studying nearly every day with the BDS Modules and FIT Mock Exam provided by Hopebridge, along with the Pass the Big ABA Exam Manual, Study Notes ABA video bundle and other free mock exams, I knew I was prepared … even though I still went into it super nervous. I hyped myself by listening to my favorite pump-up music on the drive to my test (which I highly recommend!). Once I arrived and began the exam, I took my time, used my white board to stay on track, took deep breaths and doodled when I became overwhelmed. When I started to feel a mental block hit at about 2.5-3 hours into it, I took a break to breathe, jump and move around before coming back strong to finish my test. And it was all worth it, because it was so relieving to finally receive that one piece of paper that stated I passed my BCBA exam on the first try!

Now, as a BCBA, I am constantly learning and growing while building meaningful relationships with my supervisees, patients, patients' families and other employees across Hopebridge. I have had many exciting moments thus far as a BCBA, including reducing high levels of maladaptive behaviors, teaching a new patient how to use PECS to communicate, and having parents crush parent training goals to support their children.
Advance your Career with Hopebridge
Are you interested in taking the next step in your own ABA journey? Visit our Hopebridge job board to find a center position that feels right for you and allow us to help you grow into your career.
Get to Know Katie
Fun Fact: "I played college softball, first at Iowa State University and then Purdue University, which is what brought me to Indiana."
If I could be any superhero, it would be… "Spiderman. I like his personality and his internal drive to help people in his personal life as well as those on the street. That's how I feel as a human; I may not know someone, but I will still want to help him or her."
Favorite Team: "Chicago Cubs. I got attached to them after going to one of the playoff games a few years ago. It was such a cool atmosphere."
What is taking up your time outside of work right now? "Two of my coworkers and I are training for the Mini-Marathon. I did my first last year and have been working on getting back into running and weightlifting again."
Life as a dog mom: "I have a French bull dog named Stella. She is the best dog I've ever had. I've had many dogs and loved them all, but she has the best personality. She's my go-to."

*Informed consent was obtained from the participants in this article. This information should not be captured and reused without express permission from Hopebridge, LLC.