How Hopebridge's Regional Teams Collaborate to Enhance Clinical Outcomes
July 20, 2023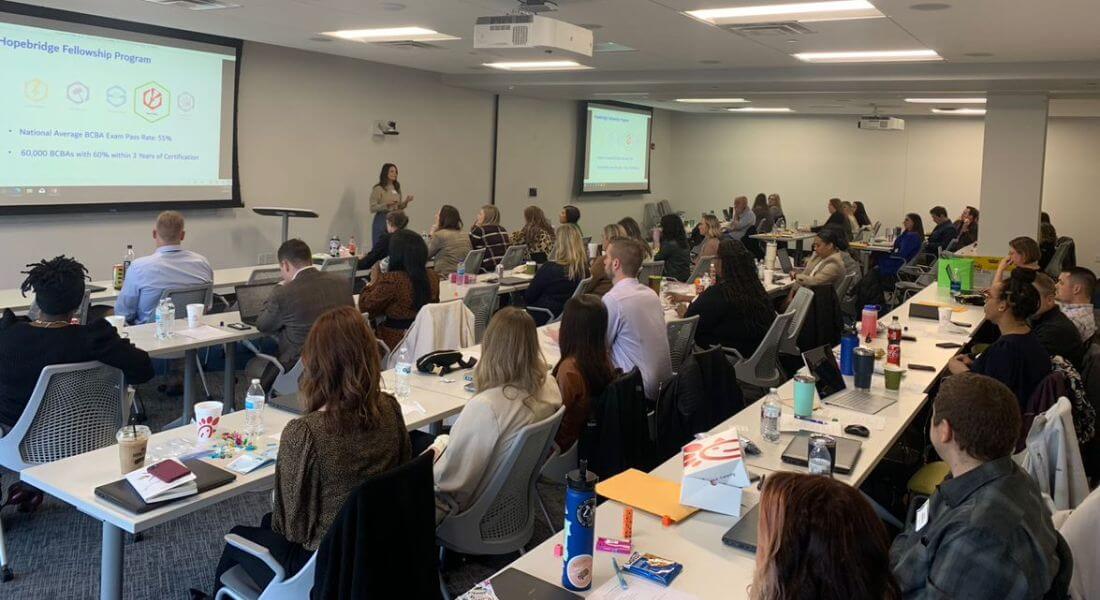 Operations and Clinical Teams Partner to Provide Support for Therapy Centers
At Hopebridge, collaboration is a key element in our clinical outcomes. From the families and behavior analysts coming together to set goals, to the interdisciplinary therapists communicating their plans, to the behavior analysts and center managers ensuring the environments are set up for safety and success, it's always teamwork in action. These moving parts can be seen at a center level, but the same is true on a regional level.
Regional Board Certified Behavior Analyst (BCBA) Nia Flowers and Director of Operations Jim Fox make a great example of what a seamless partnership can accomplish.
With two different professional backgrounds, they began working together in their regional roles, with Nia overseeing the BCBA team in Tennessee, and Jim overseeing center management for the same region.
Working together, they began with a shared understanding that they would not know all the answers, but that they would figure it out together. They believe their roles require staying open-minded, remaining humble and asking questions, all with the desire to help others succeed.
Nia's experience in applied behavior analysis (ABA) lies in nearly every setting possible, including schools, residential facilities, in-home and clinic-based, before serving as clinical director in Nashville and ultimately becoming regional BCBA. Her extensive knowledge and passion for the mission enables her to provide the clinical perspective within their partnership as she and Jim think through how to provide meaningful clinical outcomes and a healthy, happy and competent team of BCBAs and RBTs.
Jim has worked in the healthcare realm for the past 15 years, starting out in the long-term care industry before moving into autism therapy operations. Though he says he started as a "muggle in the ABA world," his background and skillset proved valuable in therapy center management, as well. He worked his way to regional manager, which is where his partnership with Nia flourished before his recent promotion to director of operations. As the role of an operator within a clinical space, Jim connects with Nia to ensure that the policies, procedures and systems his team implements lead to increased clinical outcomes for children, while staying mindful of how these same elements affect Hopebridge clinicians.
"Much of our collaboration is simply talking through scenarios and understanding each side, but ultimately, it is 'our side.' There is no differentiator. I have the operational tag and Nia has the clinical tag, but we have the same goal in mind: Run the best business to provide the best outcomes for our kiddos, all while creating a positive work environment for our team," said Jim.
Why Communication is Crucial for Autism Therapy Leadership
These two regional roles collaborate daily. Nia and Jim feel it is important to stay in close contact – even when in different zip codes – in order to get on the same page and present a united front to their staff.
"That's one of the biggest things we do well. When a challenge arises, there's a good chance we've already talked about it, so we can create plans and give guidance accordingly," said Nia. "We work together to problem solve and make the best decision not only for our region and our people, but also for how that decision will affect our families and company at large."
Early in their working relationship, they connected and established their preferred communication styles, including how they would discuss tougher topics and the "nitty gritty details" with each other and their teams. They have become accustomed to collaborating over the phone or computer, though they agree their most productive times are when they are in the same place and can spend time together organically throughout the day.
When asked how they work together so easily, Jim likens it to someone asking, "Why are you so good at breathing?"
"It's something we've done very well from the get-go. As our partnership and region grows, that initial dynamic and trust we created with open dialog has fostered a great partnership," said Jim. "Our understanding of the needs of the region are always in line with each other."
Teamwork in Action: Regional Team is Driven by the Hopebridge Mission
Nia and Jim believe trust and vulnerability allow them to communicate so openly, which has paid dividends on how they have been able to operate together. Together, their successful partnership leads to better access to services for children in their community.
For them, the payoff comes in everyday moments. It is seen when reading a post-evaluation review from a parent who thanks the BCBA by name for a great experience. The rewarding feeling comes from sending that same review to the rest of the center's clinicians so they can see the first-hand impact they are making.
Whether it is a young leader growing their own skillset within a new managerial role, a center manager crushing an onboarding goal, or the eruption of RBT cheers following a child's achievement, the personal and professional development of team members also drives them.
"On any given day, it's those little fireworks that reinvigorate me. Those sparks are constant reminders of the investment we make in our children and our people. I'm here to give it my all so I can support those team members as they become better leaders," said Jim.
In one specific instance, Nia remembers a new patient who would cry and wanted to be held or sit in someone's lap every second. She troubleshooted with his BCBA in order to make him comfortable and happy for more effective therapy sessions. Just two days later, Nia learned from the BCBA that he was now successfully communicating and would walk across the room with his RBT without crying.
"Hearing how ecstatic she was that we made that amount of progress in a small amount of time was incredible. It brings me joy that my BCBAs will reach out to me to tell me the small things," said Nia. "Sometimes our duties can be difficult, so it's always great to be reminded of why we do what we do."
The joyous moments drive home their mission, but effective teamwork is crucial in tougher moments, as well. For example, both Nia and Jim remember being in the same center when a patient experienced a medical emergency. It was the first time the child ever had a seizure, and it was all-hands-on-deck to get them the medical care they needed.
"It was one of the most emotional days I've had while working as a regional BCBA," said Nia. "The child's mother was naturally hysterical over her child, but she was still calm enough to give our team hugs and thank us for taking care of her baby."
Working with children in behavioral health, there will be challenging moments. Whether they are minor or impact our families, Jim and Nia note that being able to rely on your team and resources within the organization, combined with having a solid plan, will get everyone through it.
Through everything, Jim and Nia view their roles as productive challenges they are granted and appreciate the opportunity to shape the people who directly impact their region.
Advance Your Career With a Regional Support System at Hopebridge
Having the support of a regional team is one of the benefits of working at Hopebridge—there is always someone who has your back. From new BCBAs who have questions about their caseload, to a center bringing on new hires, to the implementation of new training opportunities, the regional support system is there to lend a helping hand (or two!).
It doesn't stop there, either. There are opportunities for advancement and support at every level. Grand Rounds provides cross-country collaboration for clinicians who could benefit from extra minds for a specific patient program. Plus, with a unique BCBA Career Pathway, behavior analysts can look to their senior BCBAs and clinical directors for daily support, while also increasing their competencies and skillsets to look forward to their own promotion paths.
Leadership programs like LEAD and Next Step Academy, along with a home office that provides administrative resources, are also available for growth opportunities and mentorship, whether they are interested in a clinical or operations path. If you are interested in joining a mission-driven organization while advancing your own career with support from experienced professionals like Nia and Jim, check out the jobs available at Hopebridge.
*Informed consent was obtained from the participants in this article. This information should not be captured and reused without express permission from Hopebridge, LLC.