Toilet Training Tips for Kids with Autism: Learn from a Hopebridge BCBA
October 13, 2021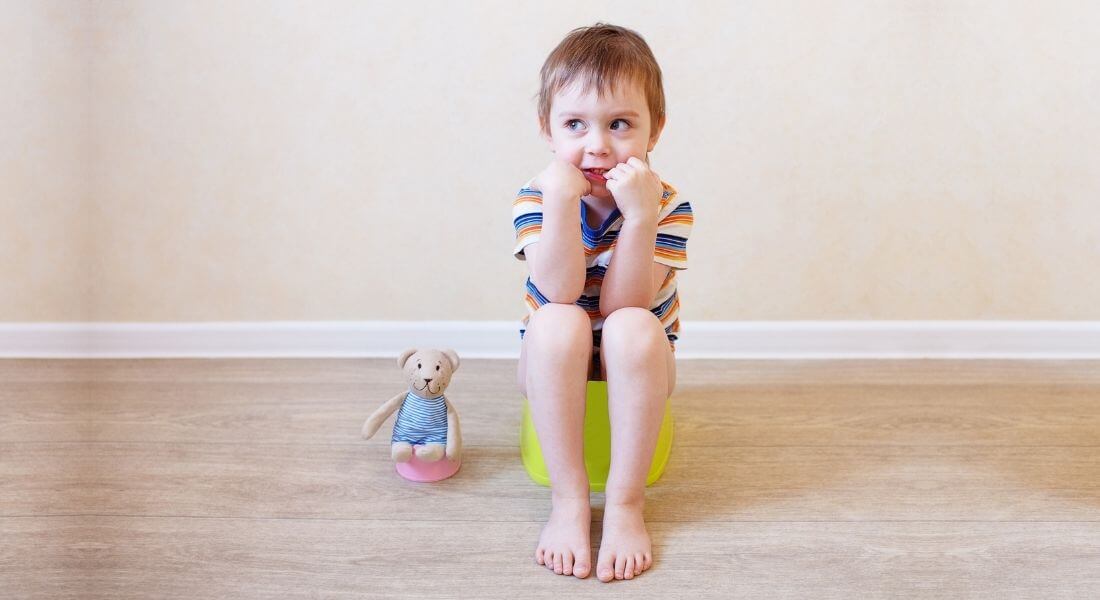 BCBA Katie Meltzer Shares Best Practices for Increasing Toileting Success
There is a moment during the parenting experience that many moms and dads look forward to, but also simultaneously dread: toilet training. The idea of no more diapers is appealing, but the process of "potty training" can be stressful for everyone involved. Add autism spectrum disorder (ASD) into the mix, and the associated challenges can make the process all the more difficult … and often quite lengthy.
Toileting can be an added barrier for school, as many daycares, preschools and elementary schools require children older than a certain age to use the restroom independently prior to entering the classroom. Unfortunately, it is also a topic that carries a lot of stigma and feelings of shame for some kids and parents.
What you might not expect, however, is that our Hopebridge behavior analysts and therapists actually like working on this skill with children and their families! There is no need to be embarrassed, as toileting is a normal occurrence and some people may just need a little more support to get there it their own time.
"I love toilet training because it's such a life-changing skill to have. It gives kids independence, while saving families more time, money and resources to spend on other things they need and enjoy," said Hopebridge Board Certified Behavior Analyst (BCBA) Katie Meltzer from our autism therapy center in Englewood, Colorado.
Katie has a wealth of knowledge and extensive experience in this area, so we connected with her to share her own parents' guide to toilet training children with autism. In this post, she answers some of the most frequently asked questions and breaks down common challenges, tips and resources for caregivers. Katie also shares how an individualized autism therapy program that includes applied behavior analysis (ABA therapy) can support families as they work toward toileting success.
Before diving in, here are a couple of terms you will notice throughout this guide:
Toilet training or toileting: We prefer to use these more formal terms over "potty training," especially as it relates to older children.
Void: Void and voiding are the medical terms used to indicate the elimination of human waste. These are the terms we will use in this post to talk about the acts of urinating or having a bowel movement.
Read through all of Katie's tips or jump to the question that is most important to you:
"How Does Autism Affect Toilet Training?"
We often get asked questions like, "Do autistic children take longer to toilet train?" and "At what age should a child with autism be potty-trained?" As with most areas of autism, there is no one clear-cut answer, as each individual experiences it differently and should be treated as such.
Due to a range of challenges associated with ASD, toileting can be frustrating for neurodivergent individuals as well as discouraging for their parents. There are many reasons why children (and adults) with autism may experience incontinence or need extra support with hygiene. Here is a list of some of the common problem behaviors and other issues they may experience, which can make using the bathroom tougher for them and/or their caregivers.
Refusal enter the bathroom, which may be caused by aversion to elements like lights or sounds;
Aversion to sitting on the toilet, either because the seat is cold, they are bored, etc.;
Co-occurring medical issues, such as constipation, gastrointestinal disorders, urinary-tract infections (UTI), etc.;
Interest in playing in the toilet water;
Inability to recognize the feeling or urge to void;
Inability to recognize when they are soiled and/or not bothered by the feeling when they have already voided;
Challenges initiating or communicating the need to use the toilet because they do not understand how to ask for it;
Motor planning difficulties, such as trouble sitting down or standing up after voiding, or trouble feeling stable while sitting on the toilet;
Food intake restrictions, which can result in an insufficient amount of fiber or fluid needed to successfully have a bowel movement;
Changes in routine—children with autism can be rigid, and now we're changing up the entire routine; before, the expectation was for them to use the diaper, whereas now they must go into the bathroom, get undressed, then sit, then void, then get dressed again;
Traumatizing past experiences, such as a painful bowel movement or something else aversive that occurred during another toileting moment.
As displayed by this list, kids may be dealing with one – or several – of these challenges that can hinder their success on the toilet.
Sometimes, there are unexpected issues that arise that may make the process more difficult. Once, while toilet training a kiddo, the fire alarm went off while she was sitting. This was obviously quite traumatizing for her. After this, we had to do a lot of re-pairing with the bathroom to make it a happy place for her again.
Within this parents' guide, we'll walk you through various tips for getting started, but before you begin, we highly recommend connecting with your child's pediatrician and therapy team. It is important to first rule out any medical concerns, dietary issues or physical difficulties that need to be addressed.
"What Are Some Tips for Toilet Training My Autistic Child?"
Toilet training is rarely easy, particularly within the autism community. Thankfully, there are certain strategies and steps we can put in place to ease the process and make children more comfortable.
Here are 10 tips that make toilet training easier for children with autism:
Make sure they are developmentally ready.
Get a sense of where your child is developmentally, both mentally and physically. If they do not have body awareness, the process will be difficult. Face any motor planning challenges before training begins. This is when you can also work on teaching feelings of being wet or dry, and soiled or cleaned. Identify it for them so they start to recognize and associate those feelings.

Make a toilet training plan before starting.
Toileting will be much smoother if you prepare prior to implementing. This includes making sure medical concerns are covered, underwear is chosen and reinforcers are ready to go.

Be consistent in training.
Maintain consistency across all adults and environments. It helps to follow a schedule so the expectation remains the same, especially for children who do not adapt well to change. Your child should follow the same process at home, the therapy center, the store and grandparents' house.

Involve your kiddo in the preparation.
This is a major part of your child's life, so make sure they have a say in the process! Empower them to choose their own underwear and help decorate the bathroom.

Incorporate your child's favorite things.
Learn your child's preferred items and use them as reinforcers. When possible, restrict access to these items outside of toilet training during this time. Once they successfully complete the task you are working on, reinforce them with the preferred item.

Make the bathroom a fun space.
In addition to utilizing positive reinforcement, make the bathroom is a fun place to hang out. Maybe you decorate it with their favorite characters, sing songs, blow bubbles or read books together. Make the experience exciting for them so they want to be there.

Increase fluid intake.
While toilet training, have your child drink lots of water. It is important to push fluids to increase the number of successful opportunities to void. Their bladder should be full when it's time. In addition to hydration, be mindful of their diet and salt intake, which can cause them to retain water and make it difficult to void.

Keep track of their voids.
By logging when your child voids, you may be able to notice a pattern and better gauge when their accidents are happening.

Resist the urge to diaper again.
Once beginning toilet training, we do not recommend utilizing diapers or Pull-ups unless they wear them overnight. Wearing diapers while toilet training often causes confusion and regression.

Be patient.
Accidents will happen. Don't be discouraged or give up. Keep it consistent for your kiddo.

"What Other Resources or Tools Can Help with Toileting Success?"
Caregivers do not need special tools for toilet training, but there are some resources our Hopebridge team and parents have found beneficial.
Many of our therapists read the book, Toilet Training in Less than a Day, by Nathan Azrin and Richard M. Foxx, but it's recommended for parents, too. It's a best-seller, an easy read and is based directly on research. Those who prefer to listen than read may like the #dobetter Podcast episode on Rapid Toilet Training with Dr. Megan Miller and Joe Smith. It's specific to the book, but breaks it down even further.
Books can also be helpful and fun for kids. If your child is able to copy actions, consider some "go potty" children's books. There are options that feature Sesame Street characters, Daniel Tiger and other kids' favorites. For modeling in a digital space, the "See Me Go Potty" app by AvaKid Productions allows parents to create an avatar that looks like their children to visually teach them the steps for toileting. If you don't mind an audience, children can also watch their parents use the bathroom in order to become familiar with the process.
"Potty alarms" or bedwetting alarms are also useful for toilet training with kids on the spectrum. We often use them in the centers. The alarms attach to the outside of pants with a wire and sensor that goes on the inside. Any time it gets wet, it sends an alert. There are options for sound or vibration, and we have found the vibration-only setting most convenient with our kiddos.
"Does ABA Help with Potty Training?"
We know the challenges can be overwhelming and the idea of working towards independent toileting can seem daunting, but we are here for you and your child. As with all goals for ABA therapy, we meet your family wherever you are in the process. Through our 360 Care therapy programs, we develop a customized plan that focuses on small steps and mini (but significant!) objectives that lead up to the big win.
One of the first goals we often aim for is tolerating going into the bathroom. To do this, we make the room a fun environment that includes all their favorite things—without the expectation of using the toilet. If they will not go into the restroom, nothing else matters, which is why this is a good starting point.
Recognizing the need to void and initiating the communication to ask to use the restroom are also major steps that are crucial to beginning training. A key part of behavior analysis, we help kids achieve success by using positive reinforcement. Both of these areas can be supported by ABA therapy, but some goals like these may also benefit from Hopebridge's other interdisciplinary services, like speech therapy and occupational therapy.
Our Hopebridge centers are fully equipped with all the necessary spaces and equipment for toilet training … which even includes a "Baby Shark"-themed bathroom in our Centennial clinic! Just as it would for in-home ABA therapy, our built-in natural environments give us the ability to customize our programs to meet the needs of each child and family. For instance, we can implement rapid intensive toilet training, at which time we place all other protocols on hold to focus primarily on toileting before transitioning back into a regular daily schedule. Our spaces also enable us to take a more natural approach, when needed, especially for those who are just learning to sit. In these instances, we might practice sitting on the toilet every hour within their normal routine.
We have had a lot of toileting success stories at Hopebridge, but there is one that sticks out in my mind. I worked with an 8-year-old who came to us wearing diapers and experiencing constipation.
First, we consulted with his physician, who prescribed Myralax to alleviate his physical symptoms. On our end, we began working on tolerating sitting on the toilet, which started at around 3 to 5 seconds. We took him every hour, slowly increasing the amount of time he sat. After sitting, we provided reinforcement with a preferred item.
Once this child could sit for 5 minutes consecutively, we began rapid intensive toilet training, at which time we spent all day in the bathroom. He would spend 5 minutes on the toilet, then 5 minutes off. If he voided at any time, he could get up. Then we reinforced the behavior with a tablet and an M&M to continue to encourage him.
He started to self-initiate voiding, so we increased the duration between how long he had to sit from 5 minutes, to 10, to 15, to 30 minutes. Eventually, we were able to get him back to his normal daily routine, but would bring him to the bathroom every hour to have him void.
The next step was to teach him to initiate communication using PECS. We placed the picture right outside the bathroom door, which he would pull off and hand to us. Once he had this down, we faded it back to his room so he could do it from a greater distance. When his toileting was reliable in the center, he would also work on the steps at home to increase generalization.
The steps may seem long, but leading up to this goal was really exciting. It was the number one thing his family wanted for him. The whole process took 2 months to include communication, and it was amazing to experience his growth. This is why we do what we do!
Learn More About How Hopebridge Can Help
The autism journey is not an easy one, but it's one we cherish and know well. Our experienced professionals are passionate and equipped to provide your child with the care they need to support your family in achieving these major milestones in life. If you think your child could benefit from our autism services, don't hesitate. Fill out our online form to schedule a diagnostic assessment or ABA evaluation at one of our Hopebridge centers across the country.
*Informed consent was obtained from the participants in this article. This information should not be captured and reused without express permission from Hopebridge, LLC.