What is an RBT?
January 30, 2023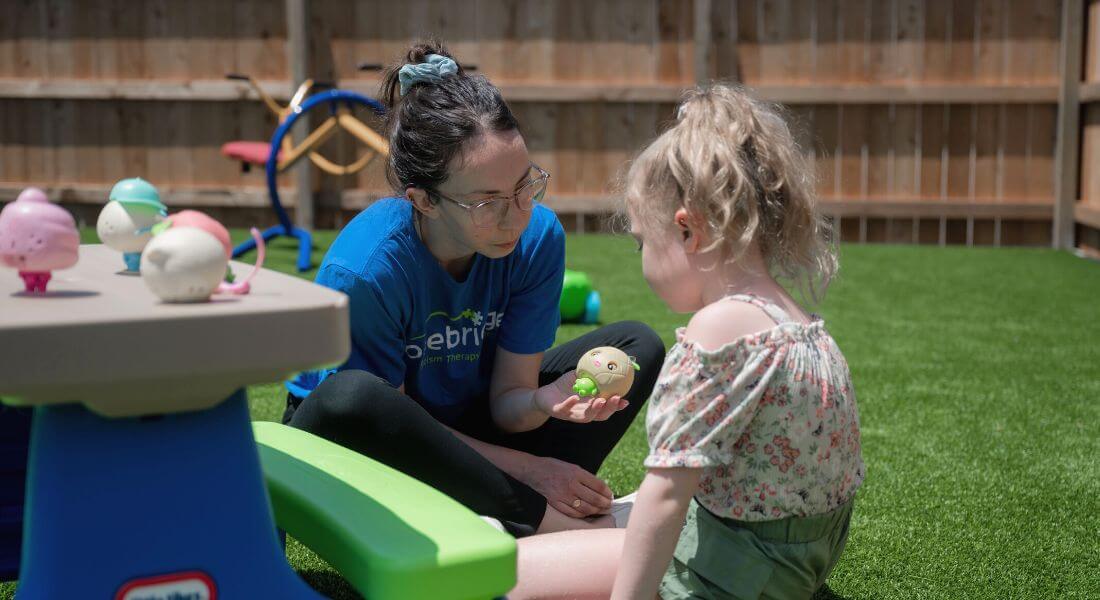 How to get Certified to Become a Registered Behavior Technician to Work with Children with Autism
When searching for a meaningful job working with children with autism, candidates will come across a range of acronyms that are less familiar to those outside of the autism community, like RBT, ABA and BCBA.
Some new to the industry may find all these letters intimidating, whereas others will dive in, interested to learn more. Either way, we want you to know … we welcome you to our industry and want to help you thrive in it!
If you're interested in beginning a career working with kids who have autism spectrum disorder (ASD), the best place for us to start is to break down the role of a Registered Behavior Technician, also known as an RBT.
What is an RBT Job?
Though in our minds RBTs are everyday superheroes, we know you're looking for more of an explanation than that.
An RBT is a paraprofessional who is part of a broader care team for individuals with autism. RBTs are certified to provide direct, one-on-one therapy to children with autism using applied behavior analysis (ABA therapy). This type of care aims to help children build the skills and independence that will set them up for a lifetime of possibilities.
ABA therapy is individualized, so an RBT will work one-on-one with a child on goals that could include everything from communication and social interactions to foundational skills like brushing their teeth, trying new foods, preparing for school, or holding hands while walking across the street. Because of this, RBTs get to participate in some of the most impactful moments of a child's – and their family's – lives.
No two days are the same, as each child and session offers new challenges and solutions to work through, but here are some things RBTs at Hopebridge Autism Therapy Centers get to experience:
Implementation of one-on-one therapy with kids alongside other interdisciplinary clinicians and their patients, making way for social interaction opportunities
Collaboration with Board Certified Behavior Analysts (BCBA), who design, supervise and analyze treatment plans
A center environment filled with a range of equipment and settings (including a gym area, kitchen, classroom-like areas and tons of toys!) to work towards real-life goals
Mentorship and support from ABA trainers, center managers and case managers, in addition to BCBAs
Access to the latest technology, training and resources to develop and grow within and beyond your role
Advocacy for underserved populations
Daily high-fives and small victories that lead to big impact!
Want to hear about it from the source? Here is what some of our RBTs had to say about their role:
How do I Obtain RBT Certification?
Sometimes called a behavior technician or ABA therapist, this role transforms into the official "Registered Behavior Technician" once the individual receives their formal certification.
"But how do I get certified to become an RBT?" you may think. It's simpler than you think.
The qualifications to become a behavior technician can vary. It's a great entry level autism job, but at Hopebridge, we've also had BTs who shifted from medical school, nursing, teaching or occupational therapy positions. The skills and knowledge of those with backgrounds in special education, psychology, pediatric healthcare or social work can be easily transferred to a job as an ABA therapist, but there are other related degrees and experience that can be beneficial, as well. The most important elements are passion for working with children, patience, compassion and the desire to advocate for families in the autism community.
This certification in behavior analysis does not require additional schooling, though RBT candidates must meet certain eligibility requirements, such as the completion of 40 hours of training and an initial competency assessment. Once those requirements are met, aspiring RBTs must apply to take the RBT Exam.
This part of the certification is usually the biggest concern for future RBTs, but there's no need to stress! In addition to on-the-job RBT training at Hopebridge, our team also offers support that includes a printable RBT Exam study guide created by our ABA trainers.
All of the certification pieces – the 40-hour training course, RBT competency test and RBT exam – can be completed in approximately five weeks, and when working with Hopebridge, your company will sponsor the costs. 😉
Compensation and Growth Opportunities: What Impacts RBT Salary?
As with most roles, the RBT compensation and benefits range between providers, location, experience and case load.
For instance, at Hopebridge, RBTs receive industry-leading compensation, insurance coverage, a 401K, competitive PTO and paid holidays, continuing education benefits, and full- or part-time opportunities.
To grow from a behavior technician's starting hourly rate or salary, there are various opportunities for RBTs to increase their income. RBTs can seek promotions into leadership positions by becoming an RBT trainer or going to graduate school to become a BCBA.
Hopebridge offers development opportunities and programs to RBTs to cater to various skills and career goals. Those who wish to increase their impact through ABA may be interested in the RBT Leveling Program or the Hopebridge Fellowship Program for students mastering in behavior analysis. The Leadership Education and Development (LEAD) Program and Next Step Academy are also available for team members interested in pursuing center management or building their leadership skills. All of these opportunities can help employees increase their wages as well as their skills.
Build Your ABA Career at Hopebridge
Does an RBT position sound like a match for you? We want to help you find your dream job. Take a peek at all that is available to you through a job in autism therapy at Hopebridge and apply to join our team with one of our open positions.
*Informed consent was obtained from the participants in this article. This information should not be captured and reused without express permission from Hopebridge, LLC.