8 Things to Know Before Becoming a BCBA
October 03, 2023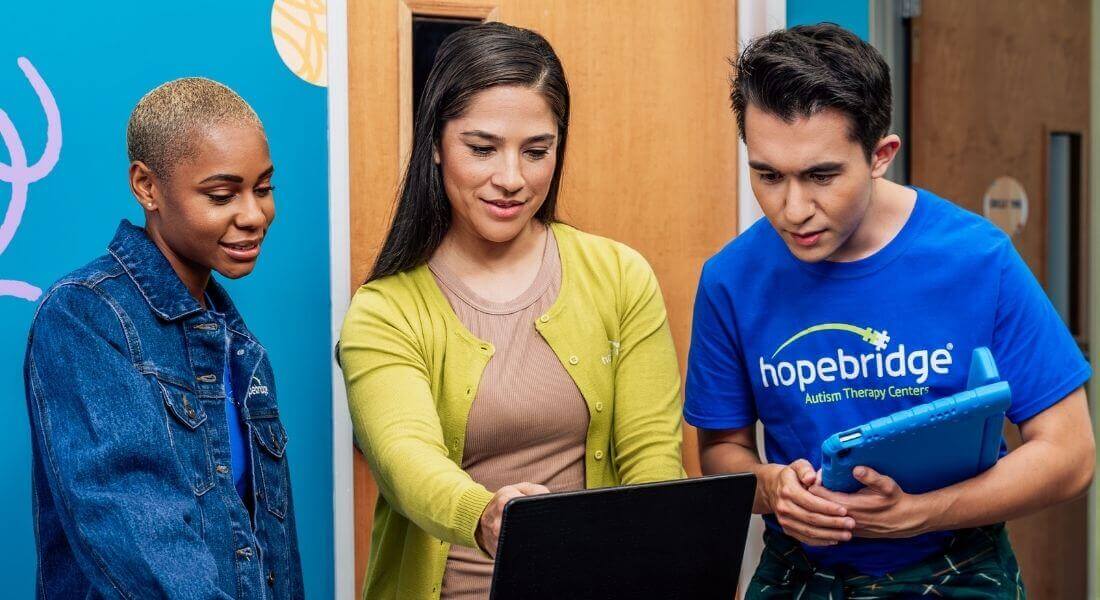 Clinicians Share Advice to Support New and Prospective Behavior Analysts
The decision to become a Board Certified Behavior Analyst BCBA is an easy one for many. For some, all it takes is one-on-one time with the kids to experience the joy and positive impact. For others, it's the opportunity to play a role in so many substantial milestones, or maybe it's the memories created with someone they love who is also on the autism spectrum.
No matter what seals the deal, studying to be a BCBA can be an exciting and fulfilling next step within a behavioral health career. However, this multi-faceted path encompasses infinite nuances and skill sets that can't be learned by solely logging clinical hours and preparing for the exam.
Is Nurture in your Nature?
Being a Hopebridge Board Certified Behavior Analyst (BCBA) is creating individualized treatment plans and analyzing progress through cutting-edge technology as your kids work to achieve their goals. With support from your team of RBTs and other expert clinicians working across disciplines, there is hands-on instruction, motivation, assistance and availability for peer play, all in an atmosphere designed to optimize ABA.
Though graduate programs and post-certification training is available to support BCBAs through many tasks and challenges, behavior analysts can increase their knowledge even further by learning from peer experiences. Thankfully, that is something we have a lot of at Hopebridge Autism Therapy Centers! With hundreds of BCBAs on our team across the nation, we asked the tough question:
"What do you wish you knew before becoming a BCBA?"
As you dive deeper into the field, it can be beneficial to get input from other clinicians. Our team shared their thoughts, which include things to look for when searching for a BCBA job–whether you are in your few first years as a behavior analyst, you're a student in route to becoming a BCBA, or you are just beginning to consider applied behavior analysis (ABA) as a career path.
What You Need to Know Before Becoming a BCBA
1. Passing your exam is just the beginning.
Yes, you can and should be proud of passing the BCBA Exam (and take a sigh of relief!), but the learning does not stop after the exam. A BCBA is a lifelong learner; someone who constantly pursues excellence in their practice and science. A great BCBA is never complacent in their education, always seeking to learn from their experiences and gain more knowledge to provide the best possible care for the families they serve.
2. Imposter syndrome affects everyone.
Remember this: Not many people escape feeling like an imposter in their early BCBA career. Rather than shying away from these moments of growth, feel comfort in knowing you are not alone. It is normal to feel this way and just means your role and your work is important to you. Remember that you have prepared for this job and you are capable!

3. Embracing mentorship is empowering.
From time spent as a Fellow to later supervising others on their own journey, lean into the levels of mentorship opportunities available to you throughout your BCBA career. We know this type of support is crucial for our people, which is why we designed The Bridge Program to aid in the transition for our first-year BCBAs, plus offer layers of support through our regional BCBAs, clinical directors, center managers and more, who offer guidance to our clinicians at every level. No matter where you are at in your career, embrace your mentor and be there for your mentees. It not only benefits your own development, but also positively affects the children under your care.
4. Collaborating leads to holistic care and greater outcomes.
As a BCBA, you should never be on this journey alone. It is important to consider all variables at play in order to provide a holistic approach to your kids' wellbeing. Collaboration with other disciplines can help you get the best understanding of your patient to create a well-rounded plan of care. By working closely with families, speech pathologists, occupational therapists and pediatricians, you can increase outcomes for your children while expanding your own expertise.
5. Navigating online journals can be tough, yet valuable.
To continue to be an educated and impactful behavior analyst, you must always be open to learning and staying up to date with research. How to best do this can be the tough part! Not many people are taught how to use scientific databases to read journals, but it is a valuable skill. Did you know that if you log into your BACB account you can access a wide range of journals, free of cost? After you are credentialed, a "Resources" tab featuring the ProQuest Database becomes available and is a great starting point. Until then, many students have access through their educational programs. To help our students with this process, our Hopebridge Fellowship Program hosts a monthly Journal Club, where we take a thematic approach to reviewing some of the latest progressive care content.
6. Prepare yourself for intentional conversations.
A clinician immediately takes on a leadership role when they become a BCBA. As a behavior analyst, you want to have the skillset to be able to speak to many types of people across different scenarios. For instance, a BCBA takes on one of the first conversations a family has after receiving an autism diagnosis. Providing feedback to behavior technicians and collaborating with other clinicians is also a big part of the role, and flexibility is important as people present different perspectives. Research suggests that more than 60% of BCBAs certified within the last 5 years want more support in professional development (e.g. communication, building interpersonal soft skills)1. More specifically, nearly 70% of BCBAs want formal training on how to resolve workplace conflict, though literature and training for heavy conversations is not often included in graduate programs.2 To prepare yourself, be open to learning and teaching and seek out opportunities to work on these soft skills. Hopebridge's BCBA Career Pathway is in place to not only provide advancement opportunities for behavior analysts, but also to provide guidance and feedback for conversations like these with support from center leaders like senior BCBAs and clinical directors.
7. Assessment diversification is integral.
Many BCBAs get comfortable with certain assessments, but to provide individualized care as a dynamic clinician, you must expand your assessment repertoire. It is important to know your assessment options and have the competencies to conduct and follow through with them. We know this diversification leads to better outcomes, so we have an exclusive Hopebridge Assessment Platform available to our BCBAs. Our clinicians know which assessments they are required to conduct, plus have access to a range of others that they can use to customize the care of each individual child.
8. Know the history of neurodiversity and ABA.
Acceptance and appreciation for neurodiversity within the general public has come a long way since Hopebridge's beginnings nearly two decades ago. Just the same, ABA has not always been what it is today. It's a constantly evolving science, and our practice should reflect this growth. As BCBAs, we must acknowledge the history of ABA and neurodiversity, while also listening and showing empathy for autistic individuals and families who may need it. Not only is it more dignified for our children when we practice with this in mind, but recent literature also supports the effectiveness of reevaluating foundational ABA procedures with an aim toward increasing compassion and kindness.3 Hopebridge offers specialized training opportunities to support this type of development, as well as other crucial efforts related to diversity and cultural awareness.
Opportunities for BCBA Education, Growth and Mentorship at Hopebridge.
If you find these notes and perspectives from other BCBAs helpful, consider them while increasing your own education around behavior analysis, but also work them into the questions you ask when interviewing for a job in ABA to find the best match for you.
At Hopebridge, the learning never stops. Development for our team members is crucial, which is why we launched the BCBA Career Pathway. By offering a clear bridge to each step along the path – as well as the resources to support them – Hopebridge aims to foster both clinical quality and ongoing career growth.
The BCBA Career Pathway is one of the many offerings that fall under the broader BCBA experience at Hopebridge. Other benefits include free continuing education hours (CEU), conference presentations, and research participation.
Professional development initiatives at Hopebridge are not limited to current BCBAs. RBTs and aspiring BCBAs can broaden their own skill sets through the RBT leveling program or apply for the industry-leading Fellowship Program. Programs like LEAD and the Next Step Academy nurture team members' leadership, soft skills and provide operational opportunities, no matter which discipline they work in at Hopebridge.
Are you looking for a place to continue to grow as a BCBA while making an impact? Hopebridge is looking for passionate, dedicated individuals to join the team, and we'll provide the support to help you reach your own goals at the same time. View our open positions to find the opportunities available across the country.
1. Brown, K.R., Randall, K.R., Smith, S.W. et al. Supervision for Early Career BCBAs. Behav Analysis Practice (2023). https://doi.org/10.1007/s40617-023-00786-0
2. Kazemi E, Carter C, Davies MS. Workplace Conflict in Applied Behavior Analysis: Prevalence, Impact, and Training. Behav Anal Pract. 2022 Jan 7;15(2):608-618. doi: 10.1007/s40617-021-00649-6. PMID: 35692521; PMCID: PMC9120295.
3. Tarbox, C., Tarbox, J., Bermudez, T.L. et al. Kind Extinction: A Procedural Variation on Traditional Extinction. Behav Analysis Practice (2023). https://doi.org/10.1007/s40617-023-00833-w.
*Informed consent was obtained from the participants in this article. This information should not be captured and reused without express permission from Hopebridge, LLC.